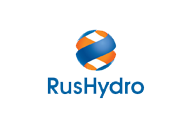 RusHydro
Improved business management for RusHydro, the largest generating company in Russia
Main outlines of cooperation:
Development of business planning and financial reporting in compliance with IFRS. The system based on IBM Cognos provides tools for medium-term planning: from development, consolidation, coordination and approval of the budget in accordance with the strategic objectives and the current investment program of the generating company. The system is intended to control the implementation of the budget and make adjustments when needed
While implementing the project for RusHydro, the company has joined the "RAO Energy Systems of the East" Group and incorporated into a single business planning model.
The number of users exceeds 1,200 people.
Cooperation continues within technical support and further development of business planning
Technical support and development of an asset management system based on IBM MAXIMO
Results:
Increased effectiveness of medium-term planning of the company
Maintaining financial consolidation in IFRS due to the unique method of transforming a business plan
Advanced business intelligence and reporting