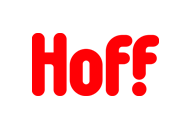 Hoff
Increased management effectiveness for Hoff, one of the largest and fast-growing companies among Russian furniture chains
GMCS carried out:
Development of retail management system based on Microsoft Dynamics AX. Migration of the system to the version Microsoft Dynamics AX 2012 R3 and implementation of the following functions: management of product classifier, assortment, purchases, pricing, sales, reclamation work, after-sales service, external and internal logistics, work with contractors and transport providers. Integration with an online store. Over 2,000 users work with the system
Replication of the retail management system in less than a year. Replication was carried out using the methodology of one-time transition: the store was closed in the "old" system in the evening and the next day it started working in the new system. Integration with the "Hoff bonus" system
Development and launch of a cash solution based on Microsoft Dynamics for Retail and GMCS own solutions. The solution supports the operation of 300 points of sale in Hoff stores throughout Russia. Further development of the cash solution in terms of the implementation of new requirements of Russian legislation
Development of a self-service solution based on Microsoft technologies for retail and its replication on a retail network. Self-checkouts (SCOs) work like "queue killers". With their help, buyers can independently find, issue, and pay for goods using the Hoff Bonus loyalty card

Improving efficiency of the contact center through the creation of an automated workplace for employees based on Microsoft Dynamics CRM. A single interface window, scripting guides, automated phone calls, integration with telephony
Strategic partnership in Robotic Process Automation (RPA) based on UiPath. Finance, customer service, procurement, and HR are priority areas for robotization
One of the projects is the automation of routine operations when receiving goods.
UiPath Robot:
- checks storage and scans of documents (document type, supplier, invoice number) using OCR tools (Google Cloud Vision), finds invoice in the ERP system and attaches scans as an attachment
- makes invoices according to the algorithm
Results: the robot performs operations 8 times faster than a human, high recognition accuracy - 85%.
Cooperation continues.
Results:
Optimization of business processes through the creation of a single management platform
Improving customer service quality by supporting omnichannel sales and developing new services
Reduced service time at the contact center during seasonal and peak load times