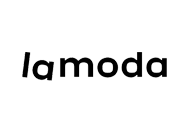 Lamoda
Integrated management information system for Lamoda, a leading online retailer in Russia and CIS
This cooperation covers:
Implementation of an information system based on Microsoft Dynamics AX 2012: finance, logistics, inventory management, mutual settlements with counterparties. ERP system has been in operation since 2013
Participation in the migration of the ERP system to Microsoft Dynamics 365 F&O in the German division of Lamoda

Development of an automated inventory accounting system in Microsoft Dynamics 365 F&O (acceptance, placement, storage, relocation, write-off, return) using data collection terminals and advanced WMS functionality. Ensuring the possibility of obtaining analytical reports on these processes
Development of a POS-solution for the Lamoda offline store. The ePOS solution based on Microsoft Dynamics technologies for retail supports the main sales processes: payments (cash, bank cards, contactless payments, etc.), returns, nomenclature, and work with loyalty cards and gift cards. The project was implemented in 2019
The cooperation continues.