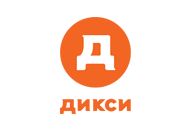 Dixy
Increased effectiveness of enterprise management for a group of companies Dixy, one of the leading Russian companies in the retail sale of food and everyday products.
The key cooperation areas:
Development of the automated financial management system including more than 800 tasks related to the consolidation of tax accounting processes into a single system, automation of factoring, tare recording, integration with the retailer's logistics system, calculation of providers' bonuses, etc.
Specific task: operational obligation accounting for the fast close reporting
Technical support of the particular area
GMCS continues to support Dixy with financial management system development.